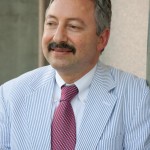 Editor, Earthquake Spectra
& Vice President and General Counsel  John A. Martin & Associates, Inc.
1212  S. Flower Street, 4th Floor Los Angeles, CA 90015
USAPhone: 213  483  6490 Fax: 213 483 3084
Website: http:IIwww.johnmartin.comIresearchInaeim.htm
Dr. Naeim is Vice President and General Counsel for John A. Martin & Associates, Inc., (JAMA) in Los Angeles, one of the largest structural consulting firms in the United States.  He obtained his BSc in Civil Engineering from University of Tehran (1977) and his Msc and PhD in Structural Engineering from University of Southern California (1980 and 1982).  In 2007, he received the prestigious Fazlur Khan Medal for lifetime achievements from Council on Tall Buildings and Urban Habitat and has received numerous other awards including the Outstanding Journal Paper Award six times in the past 12 years from Los Angeles Tall Buildings Structural Design Council (LATBSDC).  He is currently the President of LATBSDC.  Dr. Naeim was recently named  as an Honorary Member of the Earthquake Engineering Research Institute (EERI).
Dr. Naeim has served as Technical Director for many landmark structures in California and across the United States. He has also lead post-earthquake reconnaissance teams for EERI (Bam, Iran 2004) and LATBSDC (Taiwan 1999, Chile 2010). He is currently the Chair of the World Bank / EERI team of experts charged with evaluation of lessons from the 2011 Japan earthquake.  He is a FEMA certified HAZUS Specialist.
In 2007 Dr. Naeim finished a five-year term as the Editor-in-Chief of Earthquake Spectra, the professional journal of EERI.  Dr. Naeim is the Past President of EERI and the Past Chair of the Board of Governance of George E. Brown, Jr. Network for Earthquake Engineering Simulation (NEES), an NSF funded network of 14 universities.

Dr. Naeim is an advisor to several national and state organizations and major universities including the Southern California Earthquake Center (SCEC), California Strong motion Instrumentation Program (CSMIP), UCLA and USC Civil Engineering departments.  He is the editor of The Seismic Design Handbook, now in its second edition, and the coauthor of Design of Seismic Isolated Structure.
Dr. Naeim and has published more than 120 papers on various aspects of earthquake engineering in peer reviewed journals and conference proceedings. He has developed more than 45 different software systems for earthquake engineering design and education.  Three of his software systems, Earthquakes — Be Prepared, Northridge Earthquake Information System, and CSMIP-3DV have been funded and distributed by public agencies in the USA.  Dr. Naeim is currently developing a FEMA funded software system for new generation of performance based seismic design as a part of a large effort (ATC-58) managed by the Applied Technology Council (ATC).
Dr. Naeim is a licensed Civil and Structural Engineer in California.  In 2002, 20 years after receiving his Ph.D., he obtained his J.D. with highest honors and was admitted to practice law in California.  In addition, he is a licensed Patent Attorney.
 Back to the List of Editorial Board Members